Help us celebrate our region's annual celebration of all things bicycle
Close out May is Bike Month 2018 at this happy hour party at SacYard Community Tap House in East Sacramento.
Enjoy a beer on us (choose from 24 taps), live music, great company and a pretty great raffle (see below). All proceeds support SABA's mission to improve our region's quality of life by advocating for people on bikes.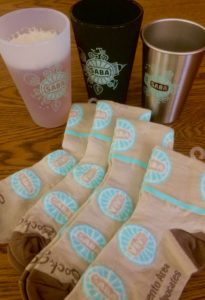 WHEN: Thursday, May 31, 2018, 5 to 7 PM
WHERE: SacYard Community Tap House, 1725 33rd St. between P St. and Stockton Blvd.
LIVE MUSIC: South Sac Jooks
FOOD: Available for purchase from Drewski's and SacYard (includes vegan options)
TICKETS
$20 – A la carte: Individual admission. Includes 1 beer token good for any craft brew on tap
$30 – Main + side: Individual admission + your choice of SABA socks OR SABA Silipint silicone pint (white or black) OR SABA Klean Kanteen stainless steel pint
$40 – Combination platter: Individual admission + SABA socks + SABA beer pint (Silipint OR Klean Kanteen stainless pint)
Click here to purchase tickets.
SPONSORS
Titanium
Bay Area Bicycle Law
Carbon Fiber
Councilmember Jeff Harris
Councilmember Angelique Ashby
Sutter Health Valley Area
Steel
Vice Mayor Steve Hansen
Redfin Real Estate
In-kind
Deb Banks and Rivet Cycle Works
Jackie Musick and the Geared Up Bicycle Technology Program, Cooley Middle School, Roseville
Stace Cooper and Misfit Metals
Edible Pedal Bike Shop
Interested in being a sponsor? Click here to learn more.
Make your sponsor payment via PayPal:
Titanium – $1,000
Carbon Fiber – $500
Steel – $250
Raffle
Vintage cruiser donated by Deb Banks/Rivet Cycle Works and restored by students at the Geared Up Bicycle Technology Program at Cooley Middle School in Roseville, with custom artwork by Stace Cooper/Misfit Metals and accessories by Rivet Cycle Works and Edible Pedal.
Gift basket from Chocolate Fish Coffee
2 all-day e-bike rentals from Practical Cycle
$100 gift card plus thermal flask from Magpie Cafe
Dinner for 4 + RiverCats tickets in the Western Health Advantage VIP suite at Raley Field