We're helping make it even easier to ride your bike in downtown Sacramento!
When you ride to an event at the Golden 1 Center, or to any of the surrounding businesses, Sacramento Area Bicycle Advocates will park it for free at 555 Capitol Mall.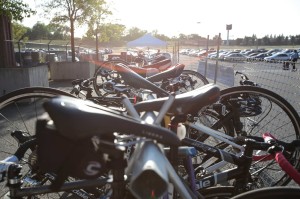 How does Bike Valet work?
Bike Valet is a free service that works like coat check for your bike. You roll up and we trade you a claim ticket for your bike and some basic contact info. We park your bike in our fenced, staffed compound. When the event is over, you present your claim ticket and we return your bike. Click here to learn more about SABA Bike Valet.
What are the hours of operation?
From 90 minutes before the start of an event to 45 minutes after the event ends.
Just how secure is it?
We set up a fenced compound where we park bikes and have paid staff who watch the bikes the whole time — nobody enters the parking compound but us. Last year we parked more than 15,000 bikes at 180+ events and every bike went home with its owner. Our regular Bike Valet clients include the Sacramento Republic FC, SactoMoFo, Midtown Farmer's Market and at the Golden One Center in Downtown Sacramento.
Will you provide Bike Valet for every Golden 1 Center event?
For the next few months, yes. Meanwhile, we'll be working with the Golden 1 Center staff to figure out the demand for this service and whether everyone agrees that every event needs it. (We think they do.)
We'll be tracking bike traffic, gathering customer feedback and surveying the community to evaluate this location. Stay tuned for more about what we see and hear!