We are thrilled to be hosting May is Bike Month for the six county (Sacramento, Sutter, Yolo, Yuba, Placer & El Dorado) region of SACOG. Throughout the month of May, bike events, festivities and energizer stations are all about getting people to swap their car keys for their bicycles for a cleaner, healthier region.
Riding your bike for pleasure or for a short trip around town to complete an errand is good for the planet and great for you. Numerous studies show that being outside and getting exercise brings many positive mental and physical health benefits. Just one trip a week by bike instead of a car makes a difference. Most trips that Americans take are 3 miles or less, which can easily be done by bike (or e-bike). Riding will keep you healthier, save you money, help our state reach its climate goals, and almost certainly put you in a better mood.
May is Bike Month has an advocacy angle too! The more people we have riding bicycles on a regular basis in the greater Sacramento region, the more pressure it puts on elected officials to funnel money towards better and safer active transportation projects.
Plus, there are prizes! Who gets a prize for driving to work?
We look forward to seeing people of all sizes, ages, and experiences out and about on two wheels during May is Bike Month. Register and join in on the fun! Whether it's riding to one of the many planned events taking place, or just cycling to meet friends for breakfast, we encourage you to ride! The more people Sacramento has on bicycles, the better our community is for everyone.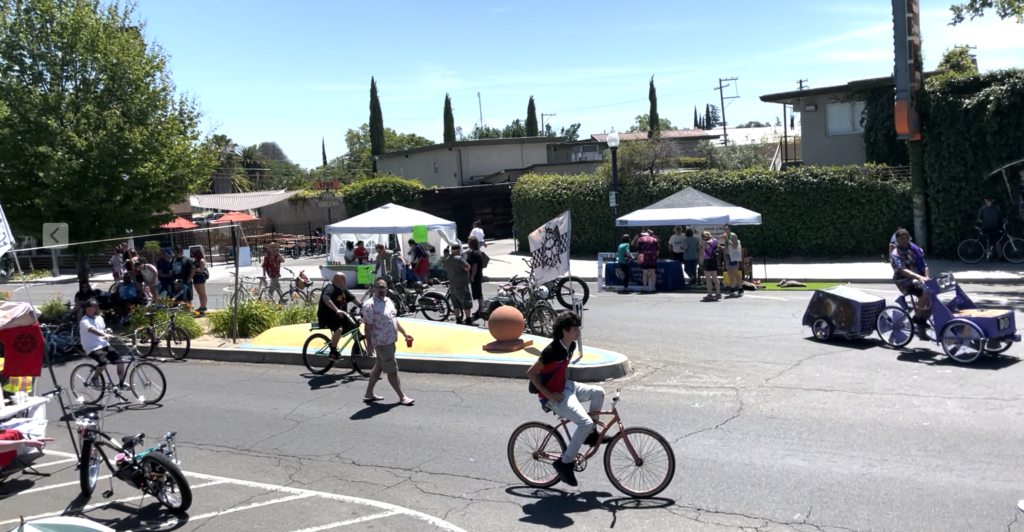 The line-up of events is too long to post here. Head to the events page on the mayisbikemonth.com website to see everything that's happening.
May is Bike Month does not occur without a lot of help from friends, partners and a host of supporting organizations.
Big UPS to our sponsors and partners! You help make it all happen for a healthy Sacramento!