By working to make it safe and convenient for more people to take more trips by bike, we're helping make the Sacramento region a cleaner, healthier, happier place to live and work.
Browse through our website to find out more about our current projects and programs and some of the ways you can help us build the movement.
Learn More
Blog
Sacramento's first protected bikeways (also sometimes called protected bike lanes, cycle tracks or separated bikeways) are being installed on three downtown streets and we're hearing a lot of questions. This is the second of several blog posts where we'll explain…..
Read More >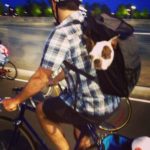 This Thursday, 587 local nonprofits will take part in the Big Day of Giving, the annual 24-hour online giving challenge. In case you're wondering, we're the only participating nonprofit devoted to the interests of people on bikes. Please consider making…..
Read More >
Current Projects & Programs
A growing number of cities in the U.S. and in Europe – including Sacramento – have embraced Vision Zero, an approach to planning safety improvements conceived in Sweden in the late 1990s that sets the goal of preventing severe injuries…..
Read More >
As private development and public works projects continue to change the face of our region, we work hard to ensure that traveling by bike becomes more — not less — convenient and safe. We do this in a number of…..
Read More >